Yesterday was such a beautiful day that I decided to sew outdoors on our new deck. I had to sew ten flannel playclothes for Malena's Waldorf nursery school. Today, I washed, ironed and rolled them. They look so soft and inviting for play! Lucky kids!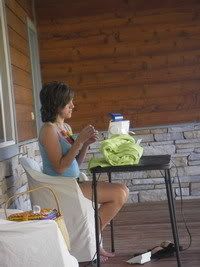 Doesn't the deck look awesome? Diego designed and built the deck all by himself! It took him one weekend and a few weeknights after work to complete it. I applied the water sealant on it. This weekend, Diego started building the back deck - by himself! We also have a new wooden hot tub to install that we ordered from,
Sea Otter Wooden Tubs
in Alaska. We didn't want to be soaking in a big tupperware container filled with hot water, so we opted for the safer wood option. The people at
Sea Otter
were extremely helpful with choosing our tub and explaining the benefits of a cedar tub. The tub smells wonderful! I can't wait to get in it once it is built. Ohhh... it has jets too! (for a good, informative article on endocrine disruptors, such as the chemicals used in plastics or cholrine, read this
article
published by a colleague of the renowed Dr.
Christine Northrup
. Check out her site for information on women's health and wisdom.)